No more hairdresser? Is your hair starting to grow back?
➽ Discover this brand new precision beard and hair trimmer
extreme: a real revolution!
It will help you to always appear under your most attractive look.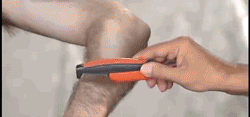 This fabulous mower has two integrated stainless steel blades and several removable accessories for impeccable results.
It uses French technology and incorporates an LED for greater ease of use and unparalleled cutting precision.
Save time thanks to its efficiency and precision
✅ Painless and safe
✅ Multifunction and easy to handle
✅ Easy to carry and light
✅ Supplied with shoe for different uses
In front of taking in hand it shaves ...
✔ The hair
✔ Torso, Armpits, arms and legs
✔ The private parts
✔ Nose hairs and even ear hairs!
The essential tool ...


♻️ We want to make sure we offer a risk-free, foolproof 30-day warranty from receipt of the package.

✅ We make sure that each customer is 100% satisfied. We will do everything in our power to provide excellent customer support service to help everyone, as we place great importance on customer satisfaction which is absolute zero risk.

🚚 Free delivery anywhere in the world!

💎 High quality product.

🔐 Your data is protected.